In the morning on Lohri day, children go from door to door singing and demanding the Lohri 'loot' in the form of money and eatables like til (sesame) seeds, peanuts, jaggery, or sweets like
gajak
, rewri, etc. They sing:
"Dabba bharaya leera da"
"Ai ghar ameera da"
Translation:
Box filled of cloths strips..this house is of the rich!
And those who weren't that generous had to face a bunch of kids chanting the following:
"Hukka bhai Hukkaa"
"Ai ghar bhukka"
Translation:
Hukka! Oh! Hukka!..this house is full of misers!
Apparently the central character of most Lohri songs is
Dulla Bhatti
, a Muslim highway robber who lived in Punjab during the reign of Emperor Akbar. Besides robbing the rich, he rescued Hindu girls being forcibly taken to be sold in the slave market of the Middle East. He arranged their marriages to Hindu boys with Hindu rituals and provided them with dowry. Understandably, though a bandit, he became a hero of all Punjabis. So every other Lohri song has words to express gratitude to Dulla Bhatti.
This translation of the Lohri song by Vani presents it as a boliyaan match between girls and boys:
Lohri Girls Songs
"Hulle nee maiyee hulle
do beri patte jhulle
do jhul payeaan kahjurran
khajurran suttya meva
es munde de ghar mangeva
es munde di voti nikdi
oh! khandi choori, kutdi
Kut! Kut! Bharaya thaal woti bave nananaa nal
Ninaan te wadi parjaee
So kudma de ghar aayee!
My bebe doesn?t remember the lines after this so she tells me..
Chant
mein lohri lain aayee!"

Translation
"Two berry leaves are hanging
Two date leaves are also hanging
The tree shed the fruit
There's an engagement in this boy's house
This boy's wife is short
She eats and grinds choori(a punjabi dish)
She grinds and grinds and fills the plate?.the wife sits with her sisters in law
Sister in law and the elder son's wife
Are in their in-laws house
My bebe doesn't remember the lines after this so she tells me..
Chant
I have come to take my Lohri "
Lohri Boys Songs
"Te 'ho's are in chorus
Sunder mundriye ho!
Tera kaun vicaharaa ho!
Dullah bhatti walla ho!
Dullhe di dhee vyayae ho!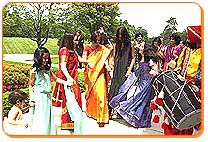 Ser shakkar payee ho!
Kudi da laal pathaka ho!
Kudi da saalu paatta ho!
Salu kaun samete!
Chache choori kutti! zamidara lutti!
Zamindaar sudhaye!
bade bhole aaye!
Ek bhola reh gaya!
Sipahee pakad ke lai gaya!
Sipahee ne mari eet!
Sanoo de de lohri te teri jeeve jodi! (Cry or howl!)
Paheenve ro te phannve pit! "
Translation
"The 'ho's are in chorus
Who do you have
The groom with the tandoor
The groom's daughter got married
He gave 1 kg sugar!
The girl is wearing a red suit!
But her shawl is torn!
Who will stitch her shawl?!
The uncle made choori!
The landlords ate it!
He made the landlords eat a lot!
Lots of innocent guys came
One innocent boy got left behind
The police arrested him!
The policeman hit him with a brick!
Cry or howl!
Give us lohri ..long live your jodi!"
Lohri Fun Songs
Apart from this traditional Lohri Songs, there are other punjabis songs that are sung on this day and depicts the liveliness and zest of Punjabi culture.
"Mukai da dana, Aana lei ke jana…
hulle hulare
asi ganga chale
sas sora chale
jeth jathani chale
dyor darani chale
pairi shaunkan chali
hulle hulare

asi ganga pohnche
sas sora pohnche
jeth jathani pohnche
dyor darani pohnche
pairi shaunkan pohnchi
hulle hulare

asi ganga nahte shava or hulle
jeth jathani nahte
dyor darani nahte
pairi shaunkan nahtii
hulle hulare

shaunkan paili pauri
shaunkan duji pauri
shaunkan tiji pauri
maiti dhakka ditta
shaukan vichhe rud gayi
hulle hulare

sas sora ron
jeth jathani ron
dyor darani ron
paira oh wi rove

main kya tusi kyon ronde
tvade jogi main batheri
mainu dyo badhaiyaan ji
Hulle Hullare"

Translation
"We set off to have a holy bath in the Ganges
Mother and father in law tagged along
Elder brother and sister in law tagged along
Younger brother and sister in law tagged along
But that bitch my co-wife too latched on
We reached the bank of the Ganges
Mother and father in law landed up
Elder brother and sister in law landed up
Younger brother and sister in law landed up
But that bitch my co-wife too landed up there
We bathed in the Ganges
Mother and father in law had a bath
Elder brother and sister in law had a bath
Younger brother and sister in law had a bath
But that bitch my co-wife too had a bath
Co-wife climbed the first step
Co-wife climbed the second step
Co-wife reached the third step
I gave her a shove
Co-wife drowned in the stream
Mother and father in law wail
Elder brother and sister in law wail
Younger brother and sister in law wail
But that bastard also wailed
I said why do you wail
I am good enough for you
Congratulate me
I have returned after drowning my co-wife"